Inside Housing – News – Government-approved fire safety guide could lead to "unnecessary tragedy" published in 2011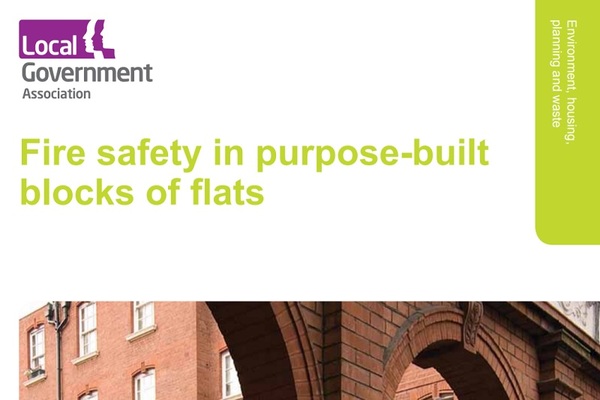 The Local Government Association (LGA) was warned ten years ago that the fire safety guidelines it issued could lead to an "unnecessary tragedy" due to its inability to recommend evacuation plans for residents with disabilities. , the Grenfell Tower Inquiry learned today.
The guide was published by the LGA following the Lakanal House fire (Photo: LGA)
Divide lines
---
The Local Government Association (LGA) was warned ten years ago that the fire safety guidelines it issued could lead to an "unnecessary tragedy" due to its inability to recommend evacuation plans for residents with disabilities. #UKhousing
---
The investigation showed a letter from Elspeth Grant, director of fire safety consultancy TripleAconsult, sent shortly after the guide was published in 2011 with the approval of the Department of Communities and Local Government (DCLG).
Ms Grant's letter, addressed to then LGA President Sir Merrick Cockell – also at the time chief of the Royal Borough of Kensington and Chelsea (RBKC), which owns Grenfell Tower – aimed at the guide's advice on disabled people.
The guide, titled Fire safety in purpose built apartment buildings, said it was "generally unrealistic to expect owners and other responsible persons" to plan or "have in place special arrangements, such as" personal emergency evacuation plans "" ( PEEP) in general housing needs.
And he described keeping information on residents with mobility issues on scene for use by firefighters as "unrealistic" in general housing needs.
In her letter, Ms Grant said the statements "reflected an outdated view, highly discriminatory and not in line with UK equality or fire safety law".
She warned that they were leaving the LGA "in danger of legal action because of the publication of notices contrary to the law".
"If these guidelines are not changed, building managers and owners who follow this advice will continue to discriminate against people with disabilities in fire safety (who make up one-fifth of the population) and will indeed be subject to criminal prosecution or civilians. she added.
It came as Colin Todd, a prominent fire safety consultant, gave his final day of testimony as an expert witness at the inquest today. Mr. Todd led the team at his consulting firm that wrote the guide.
---
---
Colin Todd testifying at the inquest today (Photo: Grenfell Tower Inquiry)
The guidelines, which were commissioned by the government and were a key text for social landlords, have been the subject of controversy since the Grenfell Tower fire in 2017, largely due to its advice on PEEP and for its strong support for the principle of "staying put".
In April of this year, the LGA withdrew the guidelines from its website saying that "changes in government policy and regulation mean it is now obsolete."
The Home Office then republished the guide with the section on PEEP grayed out and is currently working on a new version expected to be released later this year.
The family of Sakina Afrasehabi, a disabled woman who lived on the 18th floor of the Grenfell Tower and died in the blaze alongside her sister Fatima, had previously threatened legal action over plans to repost the guidelines as part of a campaign on the issue of PEEP. .
Mr Todd said he did not recall seeing Ms Grant's letter, but accepted that he must have done so as it had been copied into emails from the LGA requesting that his consulting firm , CS Todd & Associates, is drafting a response.
The response insisted that it was not "reasonable and practical" to recommend evacuation plans for people with disabilities "by default in all buildings".
Doing so "would place a significant burden on apartment building managers to constantly update information," he said.
Mr Todd today agreed that the reluctance was primarily based on practical concerns of owners.
He said the issue had been "absolutely" discussed with officials at DCLG (now the Department of Housing, Communities and Local Government), who were copied to the email channel.
The survey also showed comments from the Chief Fire Officers Association (CFOA) response to a consultation on a draft guide.
Responding to a consultation question on whether the guidelines adequately address people with disabilities who need fire escape assistance, CFOA said, "Ignore and eliminate advice on access and the evacuation of people with disabilities is a fundamental flaw in the document and it is recommended that they be included. . "
Yesterday, Mr Todd told the inquest that legal obligations to provide for the safe evacuation of residents were understood by the industry as not applying to people with disabilities in apartment buildings.
In its first phase report, the investigation recommended that "the owner and manager of each residential tower be legally required to prepare personal emergency evacuation plans for all residents with the ability to self-evacuate. could be compromised ".
The government is still grappling with the question of how to implement this recommendation amid industry concerns about the practicalities.
After the first phase of the investigation, President Sir Martin Moore-Bick recommended that they be mandatory for all high-rise buildings, but the government did not initially follow this recommendation. This follows an industry response group led by the Fire Industry Association, of which Mr. Todd is a director, warning that it would be "totally impractical" in a closed-door meeting.
RBKC agreed not to provide PEEP to any residents and the fire has been described by lawyers acting for survivors and bereaved as a "historic act of discrimination" against disabled and vulnerable people.
The investigation is continuing.
Subscribe to Inside Housing's weekly Grenfell Inquiry newsletter