Campus Security Officers Win FBI-LEEDA Trilogy Award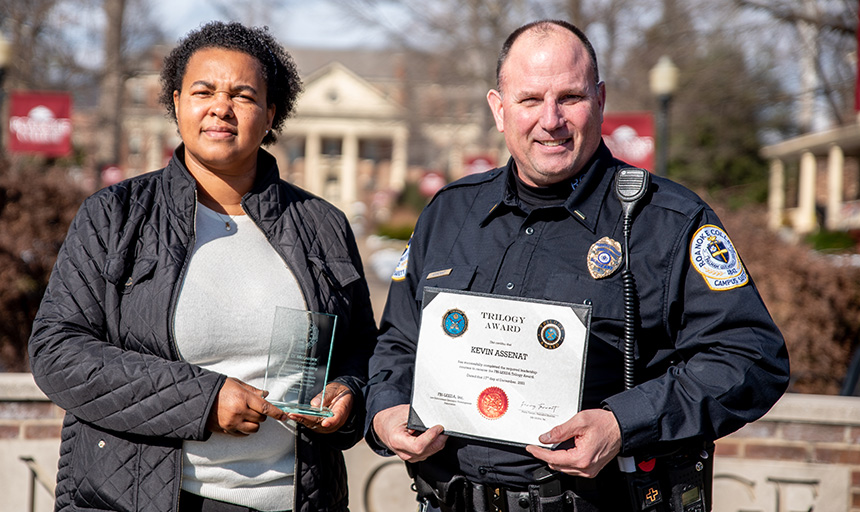 Lt. Kevin Assenat and Lt. April McCadden of the Roanoke College Campus Security Office recently completed the Supervisor Leadership Institute, Command Leadership Institute, and Executive Leadership Institute training programs through the Federal Bureau of Investigation's Law Enforcement Executive Development Association (FBI-LEEDA). Completion of all three training programs earned Assenat and McCadden the FBI-LEEDA Trilogy Award.
The training programs, designed specifically for high-level law enforcement officials, engaged Assenat and McCadden in a variety of topics, including performance management effectiveness, risks, discipline and command responsibility, implications for bias and diversity, and exploration of social and emotional intelligence, among others.
For their successful completion of the training, Assenat and McCadden received a certificate, a uniform ribbon and a Trilogy pin. However, for both lieutenants, the training went far beyond tangible accolades.
Assenat, who has served with the Office of Campus Security since 2014, said the training underscored an important reminder that relationships and open communication are key to dealing with any emergency.
"Great importance was placed on communication skills and the development of emotional intelligence," said Assenat. "The successful completion of critical incidents or other serious or life-threatening situations often results in a successful resolution in part due to the ability of emergency personnel to expertly communicate and often de-escalate the situation."