7 Safety Precautions for Motorists Using the Nairobi Expressway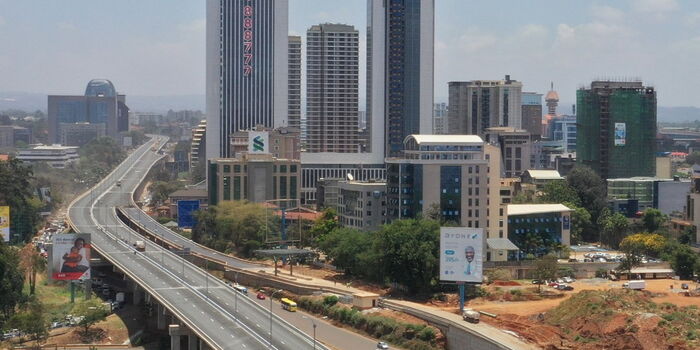 Moja Expressway Company, the company responsible for the administrative work of operation and maintenance of the Nairobi Expressway, has detailed the safety precautions that motorists using the road should observe when it is open to the public.
The speed limit for motorists using the 27 kilometer road has been capped at 80 km/h and racing will be treated as a traffic violation punishable by law.
"The design speed of the freeway is 80 km/h, so you must drive at the prescribed speed limit indicated by traffic signs along the freeway. It is illegal to organize or participate in a race or a speed test," says Moja Expressway. in one of his precautions.
Apart from the speed limit, motorists will be required to strictly observe all traffic rules and regulations applicable on all other Kenyan roads.
An aerial photo of the Nairobi highway.
Danito Kinyanjui
Vehicles using the Nairobi Expressway will also not be allowed to stop or allow anyone to get off. This is intended to prevent clogging.
"Do not stop or let anyone get on or off your vehicle on the Nairobi Expressway to avoid obstruction, inconvenience or danger to other road users," Moja Expressway added.
The Nairobi Expressway has emergency labeled lanes specifically for emergency vehicles such as ambulances, firefighters, among others. Motorists will only be able to use these lanes in an emergency.
Motorists who miss their scheduled exits are prohibited from reversing on the freeway. In the event that one has missed its exit, motorists will have to proceed and use the next toll booth to exit the highway.
Additionally, overloaded vehicles will not be permitted to use the road unless directly authorized by the operators.
"If you need to drive an oversized cargo vehicle on the Nairobi expressway, you must submit a request to the Nairobi Expressway Plaza at least 3 days in advance," says Moja Expressway.
All motorists entering the Nairobi Expressway will also be required to be sober. Tired drivers will not be allowed to use the 27 kilometer route. Other actions such as texting while driving or smoking were also banned.
In the event of an accident, motorists are advised to switch on their hazard warning lights and then evacuate everyone involved and keep a safe distance outside the barrier. Motorists were further instructed to call freeway hotlines while waiting for rescue and traffic police officers.
Any form of litter has also been banned on the Nairobi highway.
The Nairobi highway is fully fenced so pedestrians, livestock, non-motorized vehicles, motorcycles, tricycles, tractors, crawlers, loaders and forklifts are not permitted.
Other Prohibited Activities
It is forbidden to set up stalls, wrap, pile dumps and block ditches under bridges on the road.
Billboards will only be permitted after obtaining direct permission from the Moja Expressway Company. The scribbling of graffiti was also banned.
Construction of structures within the Nairobi highway compound has also been banned. Other prohibitions include damage to property and theft.
Motorists will be charged for using the road after receiving an Electronic Toll Service (ETC), where they will be given cards that will allow easy transit.
The Moja Expressway Company will operate and maintain the road for the next 27 years to recoup the money used for construction.
File photo of the Nairobi highway currently under construction running from Mlolongo to the Westlands region
Courtesy
accident steal illegal to fight